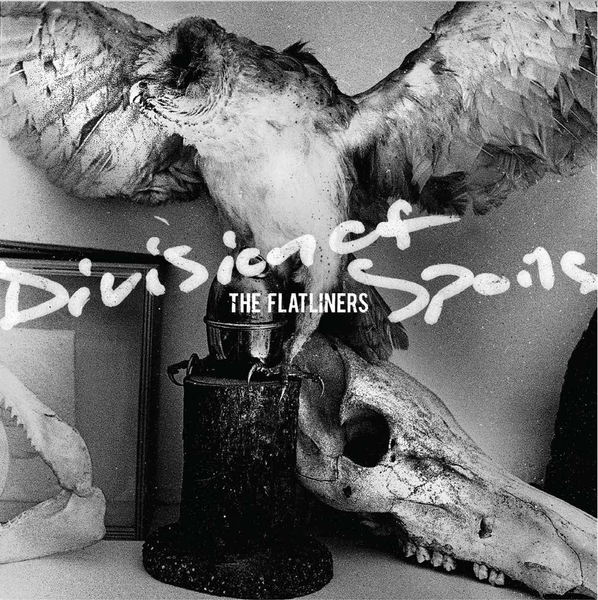 Every time we get together to write another album, we kind of fly off the handle. For our last 3 we've ended up with so many extra songs that we now have another album's worth.
Now some of you might be saying "I have all these songs on several 7"s, on every single colour ever released" and all that. Which rules. And also means you're a big geek, just like us.
Now, it sounds like we may have already fooled you once, but we're not trying to fool you twice here, folks. As a perk for being our biggest fan with the grandest Flats vinyl collection on earth, we've included 3 unreleased tracks from the Dead Language sessions, and a song that was originally demoed for The Great Awake, but was never properly re-recorded. Sweet redemption!
Division of Spoils is less a snapshot and more a time-lapse of our "career" to date. And I use that word loosely. Figuring out what songs should make a record and what songs shouldn't has always been the most difficult part of the process, but to have this collection of songs today is something we're extremely proud of. We hope you dig the potentially weirder vibes of Division of Spoils"
'Division of Spoils' is out August 7th on
Fat Wreck Chords
1: Lifers *
2: Broken Men *
3: This Guy Reads From a Card
4: Cut Your Teeth
5: This Song Is Like Thunder and Lightning in a Wide Open Field
6: Calutron Girls
7: Wynford Bridge
8: Sleep is for Bitches (Demo) *
9: 407
10: Daggers
11: Christ Punchers
12: Sticky Bastards
13: Run Like Hell
14: Open Hearts and Bloody Grins
15: Hot Trouble *
16: Fangs
17: Fireball
18: Ahead By a Century
19: Cry Cry Cry
20: Southwards
21: Straight American Slave
22: Get Out of My Face
23: Spill Your Guts
* Previously unreleased